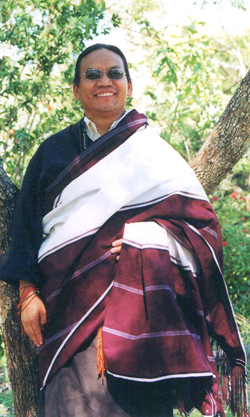 Ngakpa Karma Lhundup Rinpoche was born in 1959 in Lowo Gekar located in upper Mustang Kingdom at the sacred place of Mahaguru Padmasambhava on the auspicious Dakini's day, 25th day of 10th Tibetan lunar calendar.
Soon after his birth, Karma's mother opened a sealed earthen jar of traditional 'Birth Beer' and a blazing fire came out of the jar. This was understood to mean that the child could be a reincarnation of a powerful yogi.
His parents and several nuns raised him with much love and affection. His mother taught him to take refuge in the Buddha, Dharma and Sangha (the Three Jewels), to generate good 'heart prayers,' and to recite the most sacred mantra for generating compassion: 'Om mani peme hung.'
His father's name is Ngakpa Kalsang Tsering and his late mother's name was Karma Tsewang, Karma has one younger sister and a younger brother.
In 1965, as a child, Karma was admitted to a Tibetan school for refugees in Dharamsala, which is located in Northern India. The school was established by His Holiness the Dalai Lama and administered by His Holiness's own younger sister Jetsun Pema La.
Karma was raised alongside hundreds of other Tibetan refugee children who were orphaned, impoverished, or raised by a single parent. He completed his studies and graduated in 1978.
He then enrolled in a well known Indian Punjab University, where he studied Psychology, Public administration and Social Science. Soon after, he found his university studies irrelevant, left college and sought admission to a Catholic hospital called Holy Family Hospital in New Delhi to complete a two-year diploma course in Medical Laboratory Technology.
Upon completion, Karma received an award for his sincere care of patients. He served in several different departments in the hospital, including hematology, blood bank, bacteriology, parasitology and histopathology to doctors, nurses and laboratory students.
During his eight year tenure at the hospital, Karma took great interest in Christianity, often engaging in group discussion and tutorials on the Holy Bible with Catholics, Methodists and Jehovah's witnesses. He never took casual leaves: rather he dedicated himself whole-heartedly to relieve the sufferings of the sick and dying. In 1987, Karma resigned from Holy Family Hospital.
Over the next seven years, out of respect for his family's lineage, Karma studied Tantric practices at the Zilnon Kagyeling Monastery, which was established by the late Ngakchang Yeshe Dorje Rinpoche, a well known personal weather controller of H.H. Dalai Lama.
In Tibet, it is the responsibility of the eldest son to carry on his father's trade; Karma's father is a traditional Tantric Lama, whose job is to heal and perform rites and ceremonies for both the living and dying as well as after death.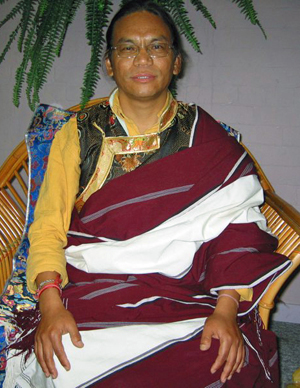 During this time, Karma took part and successfully completed the 'Three year, three months, three days' Kagye (the Nine Heruka practices) retreat in the lineage of H.H. the great 5th Dalai Lama. During this time, Karma also studied the practice of 'Troma Nagmo' also known as the 'Black Wrathful Vajra Yogini' up to the level of 110-day 'Tsok' offering practices in the lineage of Kyabje Dudjom Rinpoche. The chief retreat instructors were: Lama Lungtok Gyalton, Ngakchang Yeshe Dorje Rinpoche and Kyabje Gaje Khamtul Jamyang Dondup Rinpoche. While at the monastery, Karma also learned Dzogchen meditation, Chod practice, chanting, how to make butter sculptures, how to play different Buddhist religious musical instruments as well as many other ceremonial and ritual practices.
In 1994 Karma gave up monastic life and wandered about aimlessly (like a stray dog) throughout the sacred caves of Mahaguru Padmasambhava, Lady Yeshe Tsogyal, Lady Maha Siddha Machig Labdron, Milarepa, and 84 other great Indian Mahasiddhas in Tibet, Bhutan, Sikkim, Ladhakh, Nepal and India. During this time he received precious teachings from many great masters, such as H.H. the Dalai Lama, Kyabje Dilgo Khyentse Rinpoche, Kyabje Minling Trizin, Kyabje Sakya Trizin, Kyabje Penor Rinpoche, Kyabje Trulshik Rinpoche Kyabje Taglung Tsetul Rinpoche, Khenpo Thubten Rinpoche, Kyabje Sogyal Rinpoche and Kyabje Chockok Rinpoche. Altogether he received empowerments, oral transmissions and instructions from as many as 40 different master.
In 1996, upon the kind invitation by Judy Arpana he visited Australia, and felt fortunate to be able to benefit many people by providing simple Buddhist teachings and performing ghost-catching ceremonies. In the same year, he received the Kalachakra initiation from H.H. the Dalai Lama in Sydney. In 1997, upon the invitation by Dorothea Heidon, Karma went to England, Germany, Belgium, Holland and France. During his travels, Karma gave simple teachings, performed ceremonies and made people happy with funny Tibetan stories. He also attended several retreats, including one at Millfield School in Somerset England lead by Kyabje Sogyal Rinpoche. In the same year he traveled to the USA upon the invitation of Carol Jefferson. He was able to visit Oregon, Seattle and Colorado. Since 1997 Karma has been visiting Europe every two years.
On August 11 2000 Karma was officially recognised as the reincarnation of a 19th century Tibetan Mahasiddha Yogi called Wariktsel Thokme by Kyabje Hungar Dorje Rinpoche and his father Terton Kusum Lingpa Rinpoche. This recognition was based on dreams, visions, spontaneous feelings and other ancient traditional tests. Kyabje Hungar Dorje Rinpoche is recognised as the reincarnation of one of Tibet's greatest and wildest Mahasiddha Yogis called Do Khyentse Yeshe Dorje, who himself was the body emanation of the 'all knowing Jikme Lingpa' Terton Kusum Lingpa Rinpoche is a living treasure-revealer, who discovers the precious hidden teachings of Mahaguru Padmasambhava and consort Lady Yeshe Tsogyal of the 8th century. Mahasiddha Wariktsel Thokme was one of the heart-sons or principle students of Do Khyentse Yeshe Dorje. His monastery is known as Maha Kilung Gonpa in Golok region in Eastern Tibet.
On October 11, 2002 after receiving 13 day empowerments on the 'all knowing' Jikme Lingpa's four part, inner-most spirituality (Nyingthik Yabshi), Karma was formally enthroned as the unmistaken reincarnation of Mahasiddha Wariktsel Thokme by and Kyabje Khenpo Chockok Rinpoche at the sacred place of Tso Pema (lotus lake) in Northern India. Kyabje Khenpo Chockok Rinpoche is the chief abbot of the respected Dza Patrul Rinpoche's monastery in Dzachukha, Kham in Eastern Tibet.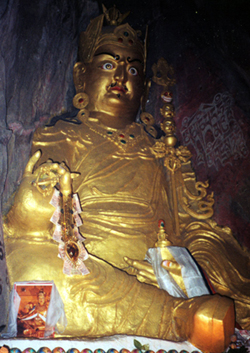 Tso Pema is considered to be the holiest place among the followers of Mahaguru Padmasambhava because it was here that the King of Zahora Kingdom burnt Mahaguru Padmasambhava alive. The blazing fire transformed into a beautiful lake. Out of the lake appeared a lotus flower, upon the pistils of the flower appeared Mahaguru Padmasambhava miraculously reborn!
In front of over 200 nuns , monks, Ngakpas and Ngakmos (Tantric practitioners), and lay people, Kyabje Khenpo Chockok Rinpoche announced 'Now I enthrone Ngakpa Karma Lhundup Rinpoche as the lineage holder of 'Osel Dzogpachenpo,' for the Karma and Terma traditions belong to the ancient school of the Nyingmapa tradition within Tibetan Buddhism.' He then placed his own Mahaguru Padmasambhava :lotus crown on Karma's head. ('Osel Dzogpachenpo,). which means clear/light perfection, is considered to be the essence of the Karma and Terma tradition of Mantra Yana.)
Ngakpa Karma Lhundup Rinpoche belongs to the ancient school of the Nyingmapa tradition of Tibetan Buddhism.' His teachings are simple, direct, often funny and applicable to everyday life. He is specialised in Dzogchen meditation, Chod practices and performs various ancient Tibetan rituals, rites and ceremonies for living, dying and after death.
Karma has been conducting highly specialised Tibetan Buddhist pilgrimages with the Lhamo Pilgrimages Tour Company since 1996. Based in Byron Bay Australia, this tour company is co-owned by two respectable Australian ladies called Judy Arpana and Pantha Blazely. While on these tours the pilgrims visit sacred caves inhabited by nuns and yogis, receive detailed explanations and arrange teachings with prominent lamas and nuns. As a participant, one is able to gain a better perspective and a stronger understanding of the Tibetan way of life as well as their religious practices.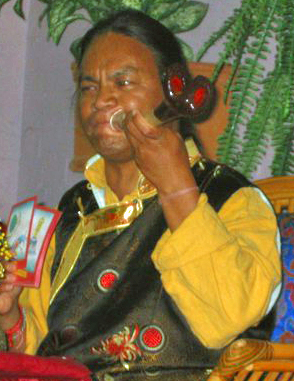 Ngakpa Karma Lhundup Rinpoche speaks fluent English, has established close connections with people of all backgrounds and enjoys sharing and telling stories about the Tibetan way of life and Buddhism. He has served as an English translator for many Lamas and Masters throughout India.
Within the Tibetan refugee communities, Karma has been actively involved in social work projects by raising awareness and support for Tibetan children's schools, nunneries, widowed lay women, elder Tibetans and others.
In addition, with the help of a very compassionate American women named Ann Do, Karma was able to initiate a unique project called 'Caring for street dogs of Dharamsala' This project consists of sterilising both female and male dogs, administering antibiotics, vaccines and providing them with food on a regular basis.
Ngakpa Karma Lhundup Rinpoche lives with his humble wife Dawa Dolker, his son, his step son and step daughter, and two lovable dogs in Dharamsala. Their second dog was rescued from the streets of Dharamsala after being hit by a car. His name is Dondup, which means 'wish spontaneously accomplished.'
During the ups downs in Karma's life, Mr. Dick and Mrs Ida C. Van Gulik Bruin, a compassionate and generous Dutch couple, have assisted him with continuous financial, moral and innumerable other unspecified supports. Karma affectionately refers to them as his Pala and Amala, which means Father and Mother in an honorific manner in the Tibetan language.
This narrative has been written by a 'crazy Tibetan beggar' called Karma Lhundup Rinpoche himself upon the sincere request of my dear friend and teacher Judy Arpana on this auspicious 'Liberation Day' (NL) on 5th May 2003 at the sacred place of Dharamsala where H.H. the Dalai Lama has lived in exile since 1959. If there is any mistake in my brief story, I confess in the vast expanse of the secret mandala of the great universal mother Ekajati and the glorious Sri Devi and I humbly seek their compassionate forgiveness. I would also like to express my sincere gratitude to Michelle Rieff from the USA, for her editorial assistance. May every one recognise the basic goodness in himself or herself.