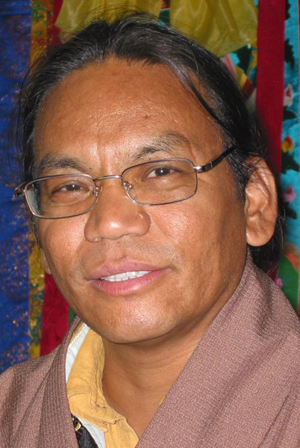 Ngakpa Karma Lhundup Rinpoche is a ngakpa (lay yogi practitioner) of the Nyingma lineage of Tibetan Buddhism. His teachings are simple, direct, humourous and applicable to everyday life.
He specialises in the Dudjom Tersar, Northern Treasures (Changter) and the Dzogchen traditions of meditation, and performs various ancient Tibetan rituals, rites and ceremonies for living, dying and after death.
Ngakpa Karma Lhundup Rinpoche was recognised as the reincarnation of a 19th century Tibetan mahasiddha called Wariktsel Thokme by Kyabje Hungar Dorje Rinpoche and Terton Kusum Lingpa Rinpoche. Mahasiddha Wariktsel Thokme was one of the heartsons or principle students of Do Khyentse Yeshe Dorje. His main teachers are His Holiness Dalai Lama, Kyabje Trulshik Rinpoche, Kyabje Taglung Tsetul Rinpoche, Kyabje Khamtrul Rinpoche Jamyang Dondup, Ngakchang Yeshe Dorje Rinpoche, and Lama Lungtog Gyalten.
Ngakpa Karma Lhundup Rinpoche speaks fluent English and has travelled around the world making connections with people of many backgrounds. Rinpoche has said that on his travels he gave simple teachings, performed ceremonies and made people happy with funny Tibetan stories. Rinpoche's humility is only one of his many qualities.